Be Reborn as a Raven
Join the Ravens of War
Latest topics
» Between Two Worlds

by Torana August 16th 2017, 11:44 pm

» Membership Application!

by Raventuile July 11th 2017, 5:56 pm

» Node War: RoW vs Chaotic vs Companions

by KonradKnox June 29th 2017, 6:23 pm

» aplycation

by Obi June 18th 2017, 10:23 pm

» Application - Mershay

by Neth June 11th 2017, 10:41 pm

» The Duke's Daughter

by Torana May 7th 2017, 11:54 am

» Cilamoas: Child of Darkness, Child of Light.

by Blackfish April 25th 2017, 3:49 pm

» ELE-FUN

by KonradKnox April 8th 2017, 5:44 am

» The TRI Serap Ritual

by KonradKnox March 14th 2017, 3:38 pm


August 2022
Sun
Mon
Tue
Wed
Thu
Fri
Sat

1

2

3

4

5

6

7

8

9

10

11

12

13

14

15

16

17

18

19

20

21

22

23

24

25

26

27

28

29

30

31

Calendar
Statistics
We have 210 registered users
The newest registered user is TopManager

Our users have posted a total of 1170 messages in 257 subjects

Visit Black Desert Online Site
Welcome to the Ravens' Nest
R

avens Of War is an establishing PvP and Roleplay community based around the idea of a medieval fantasy mercenary company, maintaining persistent presence in Black Desert Online.

Above all, in their core, the Ravens are survivors, first and foremost. We're here to stay and outlive the competition. If you are looking for a long term home in BDO, we're happy to embrace you. Our primary unique feature is that we are actually playing mercenaries. We found a few ways around the no-trade system limitation of BDO, and take contracts from other guilds to take down opposition, hunt bounties, or perform rescue and recovery. If a job fits our ability, we take it, and get paid.

Victories are important to us, but even more important is our members' enjoyment of the game. Usually the two coincide, but when the game pushes you past your limit to the point where you burn out, we take it easy and switch priorities. Our guild fosters a semi-hardcore hybrid family-friendly environment where the competitive players of the PvP core can find their application in fulfilling bounty contracts, while the more casual PvE and Roleplay oriented players can enjoy a more low-pressure, low-burnout atmosphere, tell their stories and apply themselves via providing their services and skills in the safety of towns, acting as auxiliary core.

Enlisting with us, consider carefully. We welcome members of all skill levels, who are motivated and dedicated to Black Desert Online, seek opportunity for self improvement, and want a chance to carve out a little piece of the map for themselves. A corner of the world we can call home. But it's not the skill level, but the loyalty and activity - which we value and require most. Being active, working on getting better, richer, stronger - every day, with dedication and loyalty to the company - these are the qualities we want in our members.

Now think of your path. What role will you play? Do you yearn for adventure and a life on the road? Do you find comfort in the rain beneath a wagon's tarp? Do you enjoy a gathering of merry cutthroats around a campfire, planning their future to survive the night? Is your armor polished, and your weapon repaired? Then load out, saddle up, and we ride in the morning. Profit and opportunity await!




Node War: RoW vs Chaotic vs Companions
June 29th 2017, 6:23 pm by KonradKnox


[ Full reading ]
Comments: 0
Ayel PvPing in Arena on his ranger.
February 2nd 2017, 8:27 pm by KonradKnox


[ Full reading ]
Comments: 0
The Journey To Greatness: Story of Aiel the Sorceress
February 2nd 2017, 8:20 pm by KonradKnox


[ Full reading ]
Comments: 0
Solo Pirates PvP - Konrad vs Jouska
January 11th 2017, 5:03 pm by KonradKnox


[ Full reading ]
Comments: 0
RoW vs Pandorum - A wonderful day in the desert.
August 17th 2016, 5:36 am by KonradKnox


[ Full reading ]
Comments: 0
Assassination of Arkidemis
July 4th 2016, 9:42 am by KonradKnox


Getting revenge on an AFK-fisher-killer. The way I always figured, fight fire with fire navy seal …

[ Full reading ]
Comments: 0
RP-PVP Event: The Undead Revenant Arc
June 13th 2016, 2:23 pm by KonradKnox


[ Full reading ]
Comments: 0
RoW and Allies vs. Affinity and Allies
June 3rd 2016, 3:22 am by Ayl
Here's a video clip of our war vs. Affinity. We both brought allies this time!



[ Full reading ]
Comments: 0
RoW vs. Affinity Round 2!
June 2nd 2016, 8:35 pm by Ayl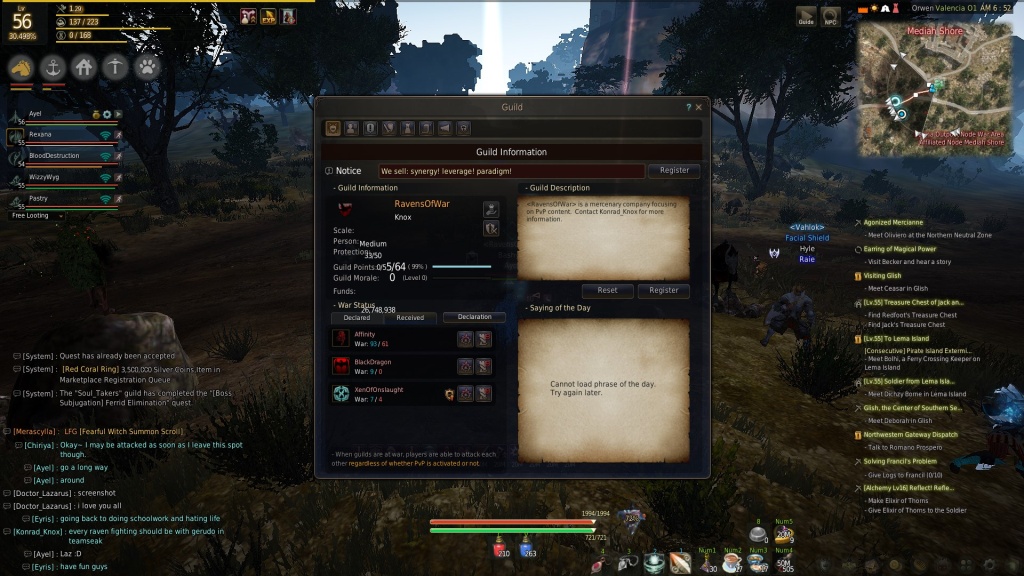 Today we squared off against Affinity once …

[ Full reading ]
Comments: 0
RoW vs. Affinity
June 1st 2016, 11:24 pm by Ayl


Here's a shot of our war vs. the guild Affinity! We took them on …

[ Full reading ]
Comments: 1
Ravens of War vs. Laughing Coffin
May 11th 2016, 11:43 am by Ayl
A short clip from the beginning of our war with the guild Laughing Coffin.



[ Full reading ]
Comments: 1
Ravens vs Ferrid - Our First Guild Boss
May 11th 2016, 7:22 pm by KonradKnox


[ Full reading ]
Comments: 1
Ayl vs. Stormblessed - Outnumbered Tamer PvP
May 11th 2016, 12:00 pm by Ayl


[ Full reading ]
Comments: 0